The Little Black Dress is available Now - PRM65DRS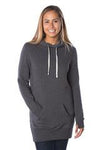 The PRM65DRS is in stock...  Created for comfort using our exclusive Special Blend fabric and a stylish silhouette, this hoodie provides the ultimate in cozy coverage.  Featuring a crossover neck, thumb holes, and 2 drawcord colors, the premium quality of this hoodie is sure to make it your new favorite.  One touch and you will be hooked!
Leave a comment
Comments will be approved before showing up.